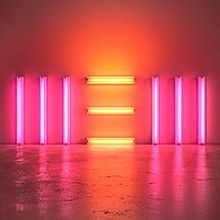 New is an album by Paul McCartney, released on 11 October 2013. It is his sixteenth studio album and his first since 2007's Memory Almost Full to consist entirely of new compositions.

The album was executive produced by Giles Martin with production by Martin, Mark Ronson, Ethan Johns and Paul Epworth. McCartney has stated that the record was inspired by recent events in his life as well as memories of his pre-Beatles history. He added that some of the arrangements are unlike his usual rock recordings, and that he specifically sought out younger producers to record the album. He and his stage band performed in various venues to promote the record, along with promotional events held through social media.
The first single "New" and the album as a whole has been greeted positively by music critics. The song became BBC Radio 2's record of the week and was placed on their A-list. The album later debuted at number three in the UK Album Chart.