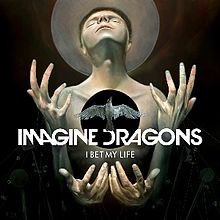 Imagine Dragons are an American Indie rock band from Las Vegas, Nevada. The band gained exposure following the September 2012 release of their debut studio album, Night Visions and first single "It's Time". The album peaked at number 2 on the weekly Billboard 200 chart and led to a worldwide tour during much of 2013. According to Billboard Imagine Dragons topped the year-end rock rankings for 2013. Billboard named Imagine Dragons "The Breakthrough Band of 2013," and Rolling Stone named their single "Radioactive" "the biggest rock hit of the year." MTV called them "the year's biggest breakout band."
Imagine Dragons' line up consists of vocalist Dan Reynolds, guitarist Wayne "Wing" Sermon, bassist Ben McKee and drummer Daniel Platzman.
The band's debut album Night Visions is currently certified Platinum in twelve countries, having sold over 2 million copies in the U.S. alone.  The album is also certified gold in multiple countries.
In response to their debut album Imagine Dragons won an American Music Award for Favorite Alternative Artist, a Grammy Award for Best Rock Performance, five Billboard Music Awards, and a World Music Award. In May 2014, the band was nominated for a total of fourteen different Billboard Music Awards, including Top Artist of the Year and a Milestone award, recognizing innovation and creativity of different artists across different genres.