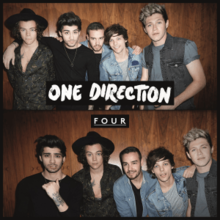 On 27 April 2014, it was confirmed that One Direction were working on their fourth studio album. Good Charlotte was reported to have collaborated with Payne and Tomlinson for writing songs. Payne claimed that the album would be "edgier" and the group have written most of the songs for it. On 21 July, One Direction announced an upcoming concert film as an initial home media release titled One Direction: Where We Are – The Concert Film, which documents the 28 and 29 June 2014 concerts that took place in San Siro Stadium during their Where We Are Tour. After the announcement, the band announced the film will also have a limited 10–11 October 2014 international cinema release before its home media release in November 2014  An autobiography book Who We Are has been announced for a release on 25 September 2014.
On 8 September, One Direction announced their fourth studio album to be titled Four, set to be released on 17 November 2014.  As part of the announcement, one of the songs from the album, "Fireproof" was released for free download for 24 hours on their official website. On 14 September, it was announced the album's first official single "Steal My Girl" would be released on 29 September. The music video, which was released on 24 October, broke the record for most views in 24 hours.
On 28 October, it was reported that another One Direction music video was in production, suggesting that another single would be released. It was later confirmed that the second single of the album would be "Night Changes".
On 22 November, it was reported that tour manager Paul Higgins, who has been with the group since its formation, has parted ways with the band.