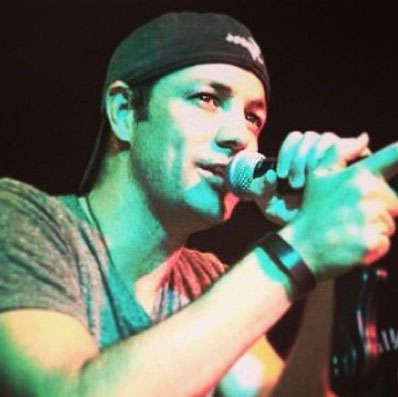 Barring divine intervention, hard work and desire are the key factors in anyone's success in a career. When combined with genuine talent, the sky's the limit. This has been the case for David Ray.
Ray got his start in his native Michigan, a state known for the likes of Bob Seger and Kid Rock. While learning a few chords on his father's guitar, Ray gravitated toward country, classic rock and folk music, listening to people like Garth Brooks, Dwight Yoakam and James Taylor.
He knew he wanted a career in music, but Ray did the prudent thing and pursued a college education at Central Michigan University. There, he regularly played as a solo acoustic artist at The Cabin, a major college hangout in mid-Michigan. After graduating from college, Ray set out for Nashville where he planned to use his degree to teach school while learning more about the city and the music business. However, there weren't any teaching jobs open for him in Nashville even though he obtained his certification for the state of Tennessee. He ended up accepting a teaching position in South Florida, without knowing what the future would hold for him there.
In 2008, he learned about Kenny Chesney's "Next Big Star" competition and entered. He won the competition, and soon found himself opening for Chesney in front of 15,000 music lovers. Following that victory, 99.9 KISS Country staff soon began to book Ray for countless station events, including Miami Dolphins and Miami Hurricanes games. KISS Country also hired Ray to play at the station's concert venue in Fort Lauderdale, where he shared the stage with artists such as Billy Currington, Travis Tritt and Pat Green. This is also where Ray met Jody Stevens, who at the time, was part of the band called Fast Ryde. Stevens told Ray to contact him if he ever decided to move back to Nashville. So, there in Florida, Ray received the kind of break and exposure that he probably never would have found if he had stayed in Nashville.
When Ray moved back to Nashville in 2010, he hit the ground running, performing almost as soon as he pulled into town. In addition to performing acoustically, Ray also performed at a few different bars on lower Broadway before landing steady gigs at Honky Tonk Central and the legendary Tootsies Orchid Lounge. Ray also reconnected with Jody Stevens and began working with him in the studio. Soon, Stevens became Ray's producer.
In 2012, Ray landed his first publishing deal with Big Deal Music, where he wrote songs with various top Nashville songwriters. A year later, Ray began working with bass player Darren Theriault, who invited Ray to perform at the inaugural Tree Town Music Festival in Iowa in May, 2014. After the festival, Ray met festival owners Dave and Gary Dewaard, who not only invited Ray back to play the festival the following year, but also began working with Ray as a management team, helping him book gigs and introducing him to radio personalities and booking agents. Today, Ray is in the studio with Jody Stevens recording his first Extended Play and preparing to release his first single in January 2016.