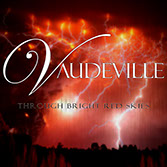 WTF is Vaudeville?
As the term 'Vaudeville' implies, this Minneapolis-based Alt. Rock band does not disappoint. With a unique style and variety to their music, Vaudeville has created a new direction of music bringing together the energy of raw rock and roll with the tightness and diversity of electronic music. Each member donates a different musical history and flavour, all combining for a stadium rock sound, not to be missed.
The release of their sophomore album, 'Vendetta', combined with a sell-out CD Release show in June 2012 at the Fine Line Cafe has brought about stellar reviews, both locally and internationally. A ferocious and loyal fanbase is growing stronger by the day showing a renewed support in independent music. Already writing again, Vaudeville is a fast moving band that is destined for bigger things.
Through 2013, Vaudeville has toured solo, as well as supporting national acts OURS/Jimmy Gnecco, and Dory Drive. In July, they had the honor of sharing the main stage at RockFest in Cadot, WI, with KISS, Megadeth, Slash, and more.
Locally, Vaudeville has had the pleasure of sharing the stage with some fantastic acts including: Skywynd, Throw the Fight, The Meat Puppets, Forever the Sickest Kids, We the Kings, Never Shout Never, and more on some of the best stages Minneapolis has to offer.
Continuing to grow with their talent and dedication to music, Vaudeville is certain to continue on the path they've begun and change the face of alternative rock music.Vaudeville – Through Bright Red Skies – Live