Wa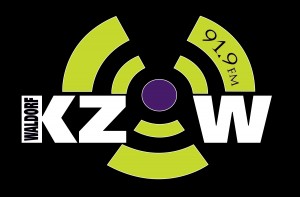 ldorf's radio station features MegaSeg – an all digital operating system currently holding over 1000 songs with more being added on a weekly basis. This system also keeps KZOW fully operational without the presence of a human operator. The station is fully capable of broadcasting from multiple type of media including CD, MP3, iPod, and mini-disk.
Waldorf's radio facilities also feature the newest Digidesign Protools 9 audio editing station capable of creating any audio production from advertisements to radio dramas.
KZOW 91.9 FM is a student-managed radio station that broadcasts 24 hours a day, 365 days a year to listeners in a 35-mile broadcast radius. Programming can also be heard via web streaming capabilities. Students interested in joining KZOW have the opportunity to broadcast a live show as well as several other activities. Student staff members are assigned to production groups for music programming, public relations, studio production, and equipment management. Each group is headed by a student director with Professor Mark Newcom serving as advisor.