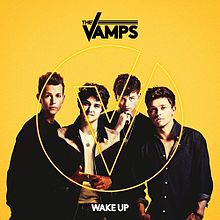 The Vamps are a British pop band consisting of Brad Simpson (lead vocals and guitar), James McVey (lead guitar and vocals), Connor Ball (bass guitar and vocals) and Tristan Evans (drums and vocals). They first gained fame in late 2012 with cover songs uploaded to YouTube, leading to comparisons with One Direction and being labeled as a boy band. They were signed to Mercury Records in November 2012. They supported McFly on their Memory Lane Tour in early 2013, and also performed at festivals around the UK as support acts for artists such as The Wanted, JLS, Little Mix, Lawson and Demi Lovato.
On 29 September 2013, the Vamps released their debut single "Can We Dance", which debuted at number two on the UK Singles Chart. Their second single "Wild Heart" was released on 18 January 2014 and peaked at number 3. Their third single "Last Night" was released on UK radio on 24 February 2014 and digital download on 6 April 2014. Their debut album Meet the Vamps was released on 14 April 2014. In February 2014, the Vamps released "Wild Heart" as their debut single in the US and Canada.
The Vamps have launched their own record label but didn't decide the name yet, and they will be working in partnership with EMI/Universal on the offshoot, and the first act signed was the American band The Tide. The Vamps released their second studio album Wake Up on 27 November 2015. The lead single from the album, "Wake up", was released on 2 October 2015.